The Greek Association of Alzheimer' s Disease and Related Disorders (of) Chalkida  and the Region of Central Greece – PE On the eve of Alzheimer's Day, Euboea co-organizes a speech-mapping event on "Mapping Prevention" on Wednesday, September 19th at 7:30 pm at the Euboea Regional Unity Theater (93 Haina Ave., Chalkida).

The purpose of the event is to inform and raise public awareness of issues related to the role of nutrition in the prevention of dementia and how play and exercise can contribute positively to the heart-to-brain relationship.
The event will feature prominent scientists with significant experience and extensive work on dementia.
Delos Chr. Director of Cardiology Clinic of Tzaneio on "Heart & Brain, Parallel Lives?"
Bamidis P. Professor AUTH – Founder and Scientific Manager of the LLM Care Ecosystem and the Living Active & Healthy Living Laboratory ThessAHALL on "Toy & Dementia",
Angelidou Evangelia – Msc Psychotherapist, Mental Health Counselor, President of ENENASDX, Presentation of the FREE program << Home care for families of dementia >>
Papavangelis Chr.-Clinical Dietitian GNA on "Diet & Dementia"
Karafyllidis I. – Body Soul Health Club Trainer on "The Benefits of Pilates Fitness".
The event will include music by the Euboean Conservatory.
The President
Angelidou Evangelia
Speech by Christos Dellou
Mr. Christos Dellos, Director of the Department of Cardiology in Tzaneio, presented the brain and heart as supporting organs. Mr Dellos analyzed the negative contribution of factors such as stress, smoking, hypertension, diabetes, lack of exercise, obesity, cholesterol and alcohol consumption to brain and heart health, discussing common "myths" for cholesterol and advised to avoid over-consumption of pills.
Speech by Panagiotis Bamidis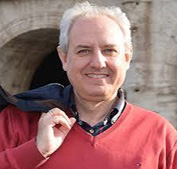 Mr. Panagiotis Bamidis, Professor AUTH, in his presentation on the use of technology for dementia issues, presented the "winning bets to bridge the gap between technological progress and seniority". Specifically, Mr. Bamidis answered the question "How can technology be applied to the prevention of dementia?", Presenting instances of technical tools and applications that have helped home dementia patients and practical issues in their daily lives.
Mr Bamidis's interdisciplinary team has carried out extensive research over the last decade and has developed a program of intellectual empowerment with the potential for personalized exercise. Mr. Bamidis also referred to the AUTh's collaboration with the Greek Association of Alzheimer' s Disease and Related Disorders (of) Chalkida through a student internship that implemented a brain-stimulation program using 14 people attending Agia Irini Day Center programs.
Speech by Anastasios Darla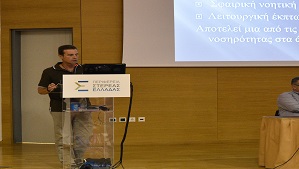 Mr Anastasios Darlas, a fitness trainer and program leader of therapeutic fitness, referred to the importance of physical activity in the elderly, which is recommended 2-3 times a week, to be personalized, without excessive and moderate or low intensity. Specifically, he emphasized the benefits of exercise in brain functions, blood flow and metabolism and muscle oxygenation. For Pilates, he mentioned the benefits of combining cognitive and physical activity.
Speech by Christos Papavangelis
Mr Christos Papavangelis, Clinical Dietitian, referred to the European Food and Nutrition Action Plan 2015-2018, the priorities set by its implementation and data from recent scientific research. He gave practical advice on dementia nutrition focused on cases of appetite deficiency and overeating of people with dementia. In both cases, it is important to offer small meals, in non-distraction environments (loose music is indicated), with a particular emphasis on effective hydration with water and juices. In addition, the caregiver should be prepared to observe possible changes in the patient's dietary habits (eg that vegetables in the refrigerator may break down because the patient has restricted the amount they consume).